Creating Peaceful Places from Cluttered Spaces
Organization Occasion is about creating peace of mind, a relaxing environment, and increased productivity through de-cluttering and organizing the home. Whether it is an office, closet, bedroom, bathroom, kitchen, or garage; organization can play a transformative role in people's lives as to how they feel overall. When working with clients, my approach is non-judgmental and sensitive to individual needs.

Oftentimes, our lives are so busy, it is a challenge to maintain our homes the way we would like. Over time, the clutter and disorganization build and reorganizing it becomes a daunting and overwhelming task to undertake alone. In many cases, having an experienced Organizer step in and help facilitate the process makes the task achievable and rewarding. I can assist you in getting your project started, work with you from start to finish, or work alone throughout after we thoroughly discuss the expectations of the project.
An optimal place to maximize your space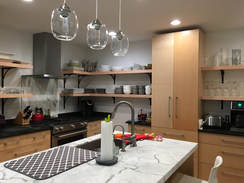 ​I begin by understanding your organizational needs and goals. Together, we evaluate your current environment and develop a personalized plan to help you achieve them. The result: greater peace of mind and an environment conducive to optimum living.
---